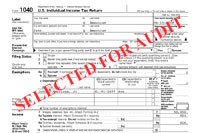 Getting audited is one of the biggest fears of taxpayers. If you are selected for an audit, it is required that you work through it with the taxing authorities by only providing the exact information they want and nothing else (to limit the possibility of them looking further into your tax return).  Many times an audit will mean that additional taxes are owed but at times the audit can result in no more taxes owed or even a tax refund.
How We Can Help You With an IRS or State Tax Audit
Our tax professionals can provide assistance in not only dealing with a tax audit, but also resolving any negative consequences of an audit. Below are the basic steps our tax team will take to ensure the best possible outcome for your tax audit situation.
Provide you with a detailed explanation of the audit notice or notices that you received.
Analyze your tax return to see if something was actually done in error. If it was, we will provide corrective action to get your tax return back into compliance.
Help provide documentation that may be needed for support in the audit.
Further analyze your tax returns to determine if you have taken all possible tax deductions and tax credits.
Provide you with the options you have if you cannot pay taxes owed in full.
Why Select Us for Tax Audit Help?
Our experienced tax team will work to get you the best possible outcome for your tax audit situation. We specialize in dealing with complex tax problems and no matter what the outcome of your audit is we will ensure that you will be back into full compliance with your tax situation when you are done, even if you cannot pay the additional taxes owed in full (Read more about our tax settlement service).