Get a Free Consultation by one of our Tax Professionals
Click Here To Get Started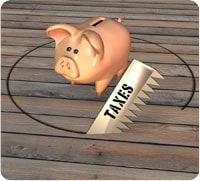 What is a Tax Levy?
A tax levy is the legal seizure of taxpayers assets to satisfy back taxes owed. A tax levy is one of the harshest collection mechanism used by the IRS and state taxing authorities.
This is different from a tax lien because a lien is only a claim to your assets while a levy is the actual seizure of the assets. Taxation authorities may levy your bank accounts, investment accounts, accounts receivable, wages, social security, pensions, insurance policies and actual physical assets.
Great company, saved me thousands on my back taxes with the IRS & now I can sleep at nights.These guys are my saving grace. Thanks Again
-Nicholas Jones - 08/04/2020
Could not recommend Clean Slate Tax more for my tax relief! Highly knowledgeable and professional. They helped in a very difficult situation and handled it perfectly. Fees are reasonable and totally worth it.
-Julie Mccarthy - 08/03/2020
Clean Slate Tax saved me over $100,000! Not only that, they released a levy on my bank account. This company was worth every penny! I would suggest using them. Their professionalism, personal touch, availability and communication were remarkable. USE THEM!
-Josefina Mason - 08/01/2020
Joe is the absolute BEST!! He is very knowledgeable, helpful, compassionate, friendly, and very easy to talk to. Everyone at Clean Slate that I talked to was so understanding and nice. They made me feel comfortable sharing very private financial issues that I have a hard time talking about. They were very patient with me paying them for their services. I could not have asked for a better company! (...)
-Julie Hebert - 07/05/2020
From the first contact with Clean Slate to my final day EVERYTHING was transparent, professional and incredibly friendly, straight forward and honest.
No false promises and they kept us in the loop all the time. They promised no more than they could deliver and delivered everything they set out to do.
A pay garnishment and HUGE tax burden was lifted and settled, as they had originally planned.
-R Perreault - 02/05/2020
I'm sure that the good folks at Clean Slate had heard it before....but for me, it was true....it was an accident. That I didn't file tax returns for 5 years. 2 family members, the 2 I loved the most, and the longest, passed within a year of each other, and it broke me. For the next 4 years. Every time I sat to do my returns, my mind went dead. And along the way, I had been hearing so many ads, "Got a tax problem? Call us"(...)
-Bernadette Spade - 12/10/2019
Tax Levy Types
The form of levy that the taxing authorities uses varies depending upon the situation of the taxpayer. They typically use the method that will be easiest for them to recoup the money that is owed. Below are the common levy types:
With a wage levy or wage garnishment, the taxing authority will contact your employer and demand your HR contact take out a certain percentage of your pay for unpaid taxes. Employers will almost never deny this request because the tax authorities can hold them liable for the amount owed that should have been deducted. This type of levy will remain in place until they have collected enough to cover taxes owed plus interest and penalties, some other resolution has been made, or the tax debt owed has expired. Generally, if a tax attorney proves hardship to the IRS the wage garnishment can be reduced or removed.
With a bank levy, the IRS will contact your bank and demand that they put a hold on your funds. Then, 21 days later, they deduct them from your account. If they do not satisfy the debt in full the first time they levy, they may keep coming back as more money appears in the account.
With this form of levy the taxing authority may seize almost any form of asset in order to sell it to cover tax debts owed. They could seizure items such as your car, boat, or house.
With this form of a levy, the IRS or some states may actually issue many levies to collect your 1099 payments. The IRS can levy any amount you are owed currently, but they cannot go after anything owed to you in the future for work to be done.
Tax levies are not limited to the above mentioned forms. The taxing authorities can also levy retirement accounts, dividends. licenses, life insurance, rental income, accounts receivable or commissions.
Although not technically, the IRS can request that the State department can revoke, or deny your passport if you owe at least $50,000 or more.
How Do I Stop A Federal or State Tax Levy?
The taxing authorities typically only use levies as a last resort option and would prefer to come to some other arrangement to resolve taxes owed. To stop a levy it will require swift action by the taxpayer or by a tax professional working on their behalf. There are many different types of arrangements that can stop a levy, below are a few.
The IRS and state taxing authorities offer a variety of payment plans depending upon financial situation. Once an agreement has been made on a payment plan the levy will stop.
An offer in compromise is an agreement to pay less that the total amount of taxes owed. This option only exists for the taxpayers that qualify and are struggling financially. It is best to talk with a qualified tax resolution professional to determine if this method is for you.
If it can be proved that the existence of the levy creates significant financial hardship then the levy may be stopped. This does not mean taxes do not need to be paid, but it will temporarily stop the collection actions.
You may appeal the levy if all taxes were paid before the notice was sent. Furthermore, you can appeal if you were in bankruptcy when the notice was sent, there was a procedural error in the assessment, you want to make a spousal defense, or you want to discuss other collection options. Sometimes, you can appeal because you did not have the opportunity to dispute the tax liability, or the statute of limitations has expired on the debt owed.
Our tax professionals can assess your situation and figure out the best method to get your levy released. We will work on your behalf to negotiate the arrangement that works best for you, not the taxing authorities.
Get Started Now with a free case review.